Belmond Royal Scotsman - Wild Scotland 20

24/25
Embark on an expedition through the captivating beauty of Scotland's rugged landscapes, where you can reconnect with your inner adventurer. Immerse yourself in untamed locations and awe-inspiring vistas that define this remarkable land.
Over a span of two days, succumb to the enchanting allure of Scotland's natural marvels. Partner with RVIVAL, masters of crafting tailor-made experiences in the wild, to tap into your primal instincts. Tailor your chosen activities and define your own boundaries as you venture into the country's wild terrains. From mastering commando training to indulging in fire feasts, rediscover your bond with nature under the guidance of a select team of experts. As the day winds down, the unparalleled comfort of the Royal Scotsman awaits you.
Itinerary
Day One : Edinburgh
Commence your journey by stepping aboard the Royal Scotsman at Edinburgh Waverley Station. The train's departure takes place in the early afternoon, embarking on a western route through Falkirk and eventually reaching Craigendoran – the initial point of the West Highland Line. While indulging in afternoon tea, keep an eye out for your first glimpse of the picturesque Loch Lomond. Shortly thereafter, the train embarks on a steep ascent up Glen Falloch, renowned for its captivating array of waterfalls.
Continue on towards the northern realms, passing by Crianlarich, the Bridge of Orchy, and the breathtaking Rannoch Moor, until you arrive at the charming village of Spean Bridge. Here, the train finds its resting place for the night. Enjoy a splendid dinner that awaits you, followed by an evening of entertainment in the Observation Car.
Day Two : Spean Bridge - Bridge of Orchy
Today marks the commencement of your outdoor escapade, following a satisfying breakfast. The RVIVAL team stands ready to greet you, poised to lead you through the activities you've selected in advance.
Among these options is the Commando Experience, situated near the historical Achnacarry Estate, once a training ground for the British Commando Forces during World War II. To spark your inspiration, you might pay a visit to the Commando Memorial in the stunning Lochaber region. Engage in an exhilarating ropes course, trek across the untamed terrain, and rediscover the unfiltered splendor of the landscape.
Your taste buds will be treated to the mastery of renowned wilderness chefs from the UK. These culinary artists, with backgrounds in fine dining establishments, have a profound appreciation for foraging and the art of cooking over an open flame. Relish in the seamless fusion of nature and sustenance as you savor an exquisite array of cocktails and dishes, each reflecting the very essence of their culinary craft.
Should conditions prove favorable, embark on a packrafting expedition, an opportunity to navigate a serene loch aboard an inflatable boat, immersing yourself in the tranquility of your surroundings, all in true expeditionary fashion.
As daylight wanes, return to Spean Bridge and rejoin the train for a refreshing shower, perhaps indulging in a sip or two of whisky, and culminating the day with a sumptuous dinner.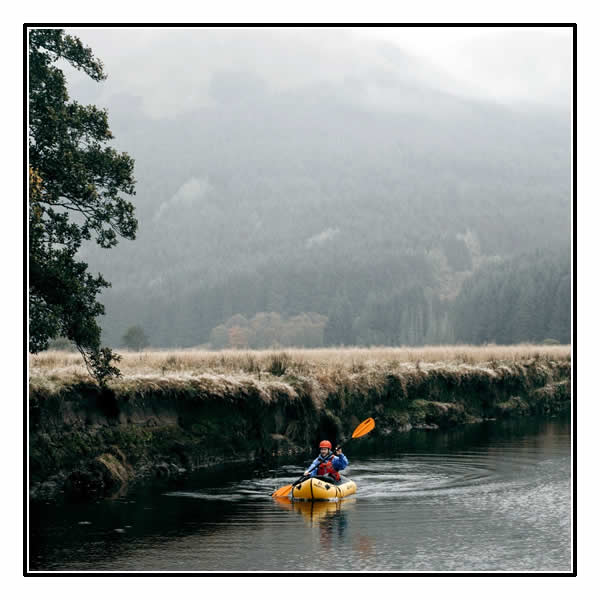 Kayaking in the Scottish Highlands
Superb meal cooked over a camp fire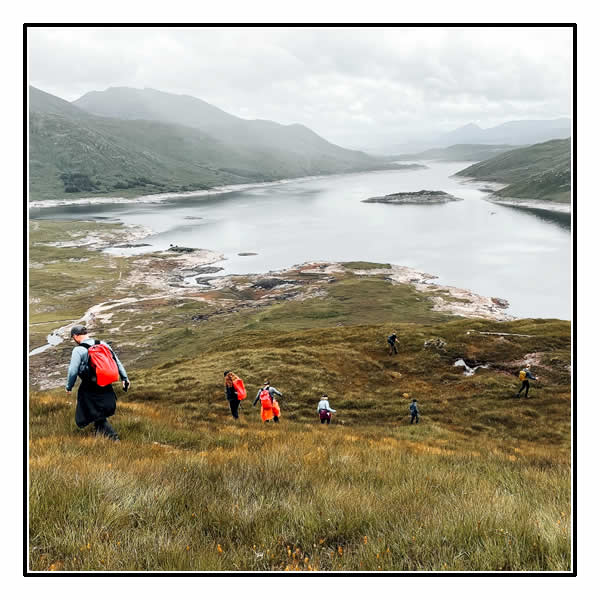 Hiking in the Scottish Highlands
Day Three : Wemyss Bay
Following a relaxed morning aboard the train, rendezvous with the RVIVAL guides at Wemyss Bay as you embark on the next phase of your journey. Your options may include a thrilling RIB adventure along the storied coastline or a captivating expedition in specially outfitted Land Rover Defenders to the Blair Estate. Once there, survival experts will lead an enlightening and informative afternoon, imparting essential skills and age-old techniques that tether you to your primal origins. An additional indulgent feast of Scottish delicacies awaits, adding to the experience.
As evening approaches, make your way back to Wemyss Bay and reunite with the train for a final, enchanting night of comfort and opulence on board.
Day Four : Wemyss Bay - Edinburgh
Basking in a newfound sense of tranquility and armed with fresh skills, savor a leisurely breakfast as the train gracefully winds its way back to Edinburgh. Allow the gentle rhythm of the tracks to lull you into a state of contentment, as the memories of your enriching journey linger in the air. Take this time to reflect on the experiences that have transformed your adventure into a tapestry of cherished moments.
Itineraries and timings shown may be changed for seasonal or operational reasons.
Departures
2024 :
Prices (Per Person) 2024 :
Twin/Double/Single from
£7,700
Single Occupancy of Twin Cabin from
£15,400
Prices are per person and include all table d'hôte meals, all alcoholic and other beverages, all sightseeing excursions as shown in the itinerary and accommodation on board based on two people sharing a twin compartment or one person in a single compartment.