The Blue Train - Compartments
Your Blue Train Suite will re-define what you consider style and class entails. It is your relaxing and elegant lounge during the day, and transforms into a subtly-lit luxurious bedroom at night, boasting goose-down and 100 per cent percale-cotton bedding. It also provides individually controlled air-conditioning, under floor heating and an opulent marble and gold-fitted bathroom with scented bath salts and plush monogrammed towels.
All suites have WiFi that is complimentary to all guests as well as electronic entertainments options. Each suite has a telephone to call your butler, order an apéritif or make international calls.
Passengers have a choice of two type of suites: De Luxe or Luxury Suites, with both types offering a range of twin or double beds with either a shower or bath-tub.
To ensure the ultimate in hospitality, each coach has a professionally trained butler who is on call for guests in each suite to attend to their every need. The butlers are there to ensure that your journey is as memorable and comfortable as possible. A late night snack? An early morning wake-up call? A blouse in pressing need of a little tender care? One call and your butler will take care of it.
De Luxe Suites
Each of the De Luxe coaches have four suites measuring 4 metres by 2 metres. One of these has a double bed and three-quarter size bath tub and hand-held shower, whereas the other suites have twin beds with showers.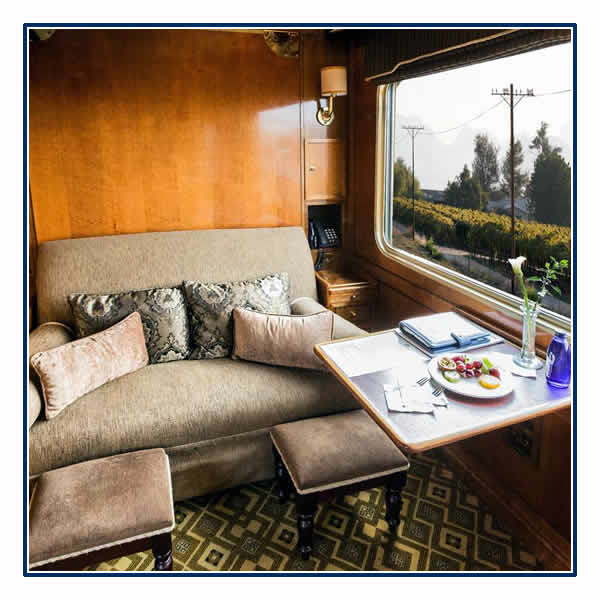 Luxury Suites
Each of the Luxury coaches have three Luxury Suites that each measure 5.13 metres by 2 metres and give you the option of twin beds or a double bed together with a long and luxurious bath tub.