The Blue Train - Life On Board
Once you are on board The Blue Train, you will not need an extra penny except to acquire personal gifts such as exquisite jewellery and The Blue Train branded mementos.
With interiors created by a leading interior architectural design company, the new Blue Train rivals many a five-star hotel in terms of grace, ambiance, comfort and style.
The suites have been superbly redesigned to offer discerning guests and travellers the best that modern technology and superior craftsmanship can offer.
Each Blue Train Suite has a fully appointed bathroom en-suite, featuring either a bath or shower; a telephone, TV monitor and individually controlled air-conditioning. A range of videos, movies and radio channels provides guests with a variety of entertainment while onboard The Blue Train. The video choices include access to short documentaries about the area through which the train is travelling.
A large screen in the Club Car provides a driver's-eye view of the track ahead, courtesy of a camera mounted onto the front of the locomotive. Other innovations include CD players and video machines in the luxury suites. To enhance your experience, you can choose from a selection of CD's and videos that can be obtained from the train manager's office.
On board the Blue Train you have two choices of lounges where you can meet fellow travellers and build friendships over a drink, or two. The wood panelled Club Car has the atmosphere of a gentleman's club where you are free to enjoy a cognac or any liquor of your choice with a Cuban cigar which we serve after dinner to round off a perfect evening. Indulge in a game of backgammon, chess or cards, read a good book from the library's selection, chat with the barman or simply enjoy your own company in this ideal setting.
In the middle of the train, you will find the beautifully designed Lounge Car which is decorated with rare works from some of Southern Africa's finest artists. Here you can relax and watch the scenery pass by interrupted only by an occasional gentle reminder from the barman that your glass needs topping up.
The Lounge Car is an ideal setting for that traditional English ritual of afternoon High Tea, where the rich taste and aroma is enhanced by the classic, elegant opulence of this carriage. It is also the venue that passengers gravitate to after their five-course dinner banquet for another glass of award-winning wine or a taste of fine Port to round off the perfect evening.
Your luxurious bed in a Deluxe Suite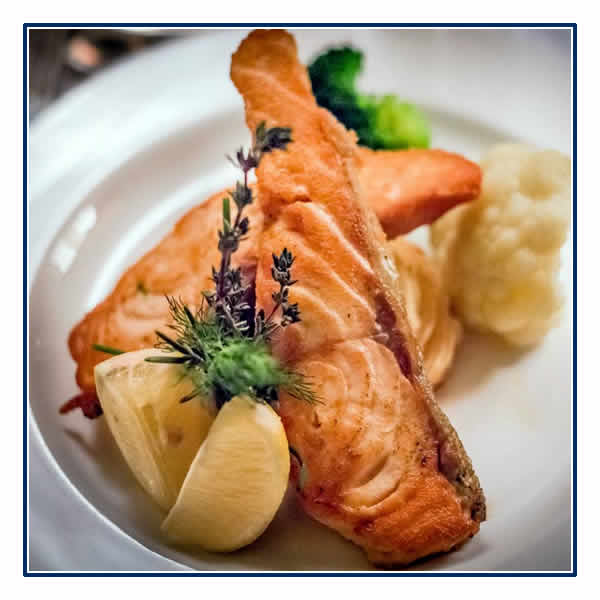 Fine dining on board The Blue Train
All drinks included in your fare
The Blue Train's cuisine exceeds even the highest of expectations and you might well find that dinner on board will be the most unforgettable experience of your adventure. The train's menus are regularly updated to tantalise and intrigue your palate, and the on board chefs prepare their signature dishes using the freshest of local ingredients including Karoo lamb, ostrich, venison, Knysna oysters and other award-winning Cape specialities. Delicate crystal, starched white table clothes, silver cutlery and fine china, all contribute to this exquisite experience.
After an apéritif in the Lounge Car, it's time to dress in your finest silks and satins, diamonds and pearls, tuxedos and ties, as you prepare to indulge in a banquet with new found friends or dine in the subtle intimacy of a table for two. You can even choose to dine in the privacy of your own suite.
Wherever you dine, there will be a menu to everyone's taste. If you require Kosher or Halaal meals, or gluten-free vegan options, simply make your needs known at the time of making your booking. It is also advisable to reserve your ideal dinner sitting as the Dining Car can comfortably accommodates 42 guests in a single sitting but in the event of having more guests on the train, meals will be served in two sittings to ensure that all guests experience utter luxury and decadence.
If you wish for a more tangible reminder of your journey on this beautiful train, then head to the exclusive boutique, an oasis that promises to satiate your desire for a fitting memento. Choose from a range of quality items that bear the elegant herald of the "vehicle of your dreams". From golf shirts to playing cards, from key rings to cuff links to lavish, leather gifts, these one-of-a-kind souvenirs will brand themselves into memory, and bring your Blue Train experience to life all over again. The boutique limits its clientele to two per viewing, ensuring you of the best individual attention. Should you purchase a valuable keepsake and would prefer greater security than the safe in your suite, the boutique will store the item securely until you are ready to take possession of it.
The Train Manager is on call at all times. Guests can contact him anytime they require assistance on any matter; or when they require information pertaining to their journey.
The Blue Train on-board services include:
A variety of delicious snacks and beverages served in the suites, on request, by butlers;
A limited on-board laundry and valet service;
Safes are provided in all suites for the safe keeping of your valuable belongings;
A luggage van is available to store any additional luggage that a guest will not need during the journey.
Your fare is inclusive of all meals, high tea, drinks (alcoholic and non-alcoholic) and off-the train excursions excluding French champagne, caviar and external telephone calls.