Rovos Rail - Service on Board
The Rovos Rail coaches - which have been collected from the far corners of the country - have been painstakingly rebuilt and refurbished to offer discerning travellers the last word in comfort and style.
The use of traditional furnishings and period decor, with top-class craftsmanship evident in fine wood panelling, has ensured an atmosphere of elegance and grandeur.
Each train has one or two lounge cars. At the centre of the train we have, when numbers dictate, a non-smoking Lounge Car, which seats 26 passengers in comfort and an onboard gift shop.
The Observation Car seats 32 passengers and is positioned at the rear of the train. Permission was sought and granted by South African Railways to run the Observation Cars at the back of the Trains, enabling enlargement of the windows and the construction of unique open-air balconies.
These classic coaches are the perfect place to enjoy a leisurely drink or a cup of tea, get to know the friendly hostesses and fellow travellers and read up more about the route and the many fascinating attractions.
An enthusiastic team of chefs is responsible for overseeing the very important task of ensuring guests every need is catered for, while considerable thought and meticulous planning goes into making up the menus. (All Rovos Rail Train Tours are inclusive of meals and beverages)
There's an accent on fresh local ingredients, and traditional dishes such as game are a speciality. Every morning there's a full breakfast with dishes cooked to order. A selection of cold meats, croissants, pastries, fresh fruit, yogurts, cereals and preserves make up a tempting breakfast buffet. For lunch and dinner there is a starter and a choice of fish, meat or vegetarian dishes, followed by a tempting dessert and are complemented by a selection of excellent South African wines.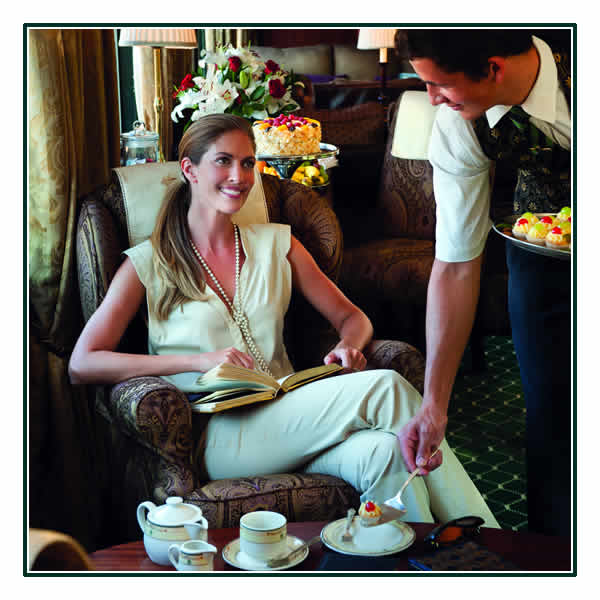 Afternoon tea is served in the Lounge Car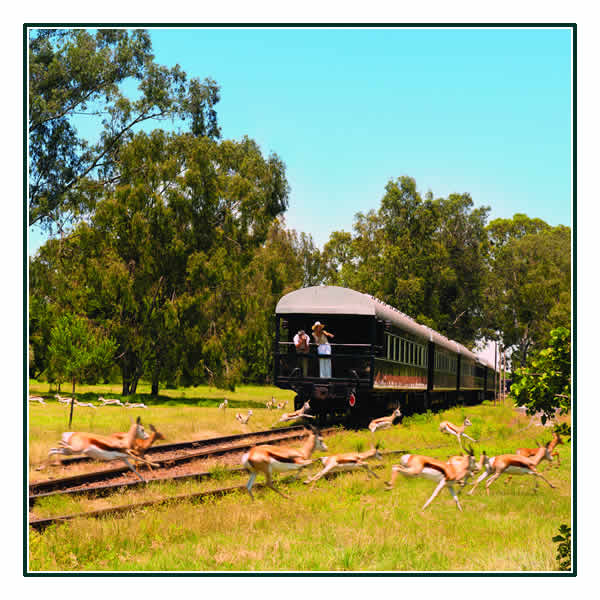 Enjoying the view from the Observation Deck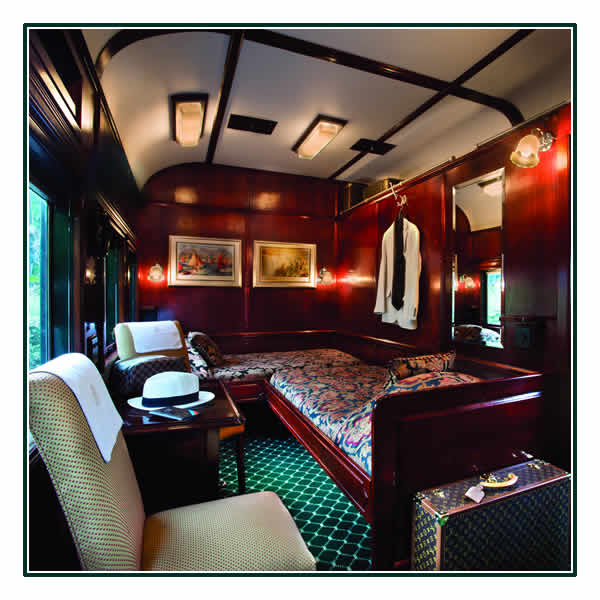 A Deluxe Twin Suite on board Rovos Rail
All meals are served in one sitting only in the charming Victorian atmosphere of the Dining Cars. Many of the passengers aboard the Pride of Africa enjoy the formality of fine china, crisp linen and silver, and dress accordingly for dinner.
During the day dress is more casual, with cool, comfortable clothes and hats recommended for the excursions, especially in the game reserves where it can be very hot.
In maintaining the spirit of travel of a bygone era, there are no radios or television sets onboard.