A Palace on Wheels - The Belmond Royal Scotsman by Vivien Devlin
This is a personal account written by Vivien Devlin of her own journey on The Belmond Royal Scotsman.
"The speed is so easy, and the train disturbs so little the scenes through which it takes us, that our heart becomes full of the placidity and stillness of the country."
Robert Louis Stevenson
In our modern, pressurised technoworld of time-watching and jet-setting, we need the chance to stop the clock for a while. Luxury travel means slow travel and the pleasure of a leisurely train journey. According to many travel writers from Stevenson to Theroux, the best way to experience a country is watching the landscape roll past the window of a railway carriage.
There's a wide nostalgic appeal for the tradition and elegance evoked by the golden age of steam trains. Today the spirit of that era is recaptured on the romantic Orient-Express train journeys from Paris to Venice, Bangkok to Singapore. On a visit to Scotland, the best way to explore this land of lochs and mountains is to take a grand, glamorous tour on board The Royal Scotsman.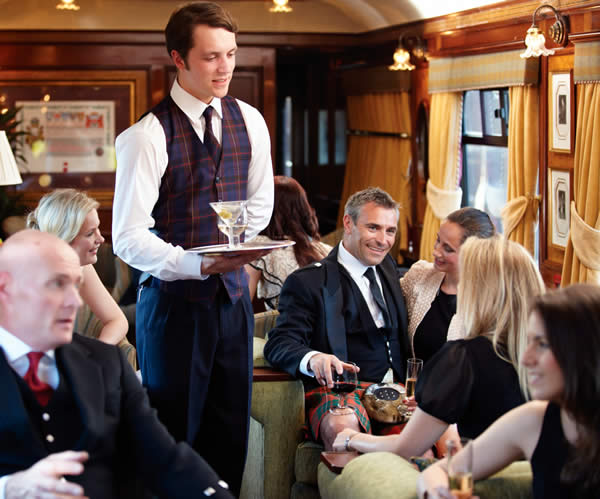 Combining old-fashioned Edwardian-style furnishings and service with every modern convenience, she is described by Sir Fitzroy McLean, diplomat and soldier (and inspiration for James Bond 007), as "The most luxurious and, indeed, prestigious train in the world."
A sense of anticipation begins several weeks before departure date. A fat envelope arrives in the post with our journey pack: gold embossed boarding cards, luggage labels and information booklet with advice on Stateroom facilities, dining and black tie dress code for formal nights, and that the weather is unpredictable from "beautifully warm to quite cool." Packing appropriately for casual and smart, rain and shine, my partner Ken and I set off for Waverley Station, Edinburgh one Friday morning in June.
After a relaxing check-in over coffee, we are royally escorted in procession by a kilted bagpiper to Platform 9. Here the gleaming maroon and cream, long, liveried beast of a train awaits us with a smart line up of staff as train manager Michael Andrews welcomes us on board. Immediately we breathe in the ambient air of gracious hospitality and quiet sophistication. We gather in the elegant Observation Car for ice-cold champagne, as we mix and mingle among the twenty two guests from Australia, United States, Europe and the UK. At 1.32pm precisely the train slowly departs from the station, past Princes Street Gardens through meandering tracks to leave the city behind. This is the Western journey, travelling towards Glasgow and then heading up the west coast. Our 660 mile, three day house party has begun.
Our twin bedded Stateroom (not bunks) with en suite shower room, offers superior comfort compared to other luxury trains. Five State cars accommodate sixteen twin and four single compartments, furnished in dark mahogany, rich green and crimson fabrics, with ample wardrobe, drawer and dressing table space. Expect feather duvets, soft towels, Au Lait fine soap, efficient heating and cooling fan.
On this first afternoon it's time to settle in and relax in the Observation Car, Scottish Country house style, amid green velvet sofas, tweed plaid armchairs, fresh flowers, watercolours, newspapers and magazine. Afternoon tea - cucumber sandwiches, scones and chocolate cake is served at 3.30pm. At the far end is the outside veranda - unique on a British train - the perfect vantage point for all those Kodak moments. The Host on this trip is Mike who points out scenic views, route maps and is our escort on daily excursions.
This itinerary is taking us up the West Highland Line, the "Iron Road to the Isles" to Mallaig, renowned as one of the most spectacular railway journeys in the world. Leaving the Clyde behind, we skirt the curving shores of Loch Long then wind along the forested bonnie banks of Loch Lomond, the terrain wild and rugged climbing over 500 feet in just five miles, towards Crianlarich and the high peak of Ben Lui.
7.30pm. The sound of popping corks entices guests, dressed in tuxedo, kilt or cocktail dress, back to the Observation Car. Time for a cocktail or two (1,000 bottles of champagne and 400 bottles of whisky consumed each season) and canapés ( foie gras tartlets, caviar blinis) before a Formal Dinner. Dining on board is a grand occasion. Working in an intimate wee galley, Head Chef Iain Murray, Charles Scott, sous chef, and Marcin Laurentowicz, chef de partie, create an innovative showcase of modern Scottish cuisine; bread, ciabatta rolls and breakfast croissants are baked each day. Be prepared for a gastronomic voyage sampling regional specialities sourced en route - Inverawe smoked salmon, wild mushrooms, organic asparagus and salad leaves, Aberdeen Angus beef and Mallaig monkfish. While stationed at Kyle of Lochalsh, a crate of prawns, oysters and langoustines is delivered to the train just 200 metres from the sea. You can't get fresher shellfish than that.
There are two charming dining cars, Raven and Victory, an original 1945 carriage featuring artistic marquetry, mahogany panelling and cushioned armchairs. Tables are laid with white linen, iconic Royal Scotsman bone china, silverware and crystal glasses. On the menu tonight, Pan-fried Scallops, vanilla and apple puree and basil foam, Highland Venison with red cabbage, Rhubarb cheesecake. Wines are selected to complement each course - a dry Sancerre followed by a plummy South African Meerlust Rubicon. Later, coffee, cheese and drinks from the bar are served as we are entertained with stories, Gaelic songs, clarsach recital or join in a lively Scottish reel. Much later back in our stateroom, beds are turned down, curtains drawn, towels folded (compartments are serviced twice a day by unseen stewards); the train stables overnight in a siding for a peaceful night.
The Belmond Royal Scotsman in beautiful scenery
Traditional piper, to pipe you on board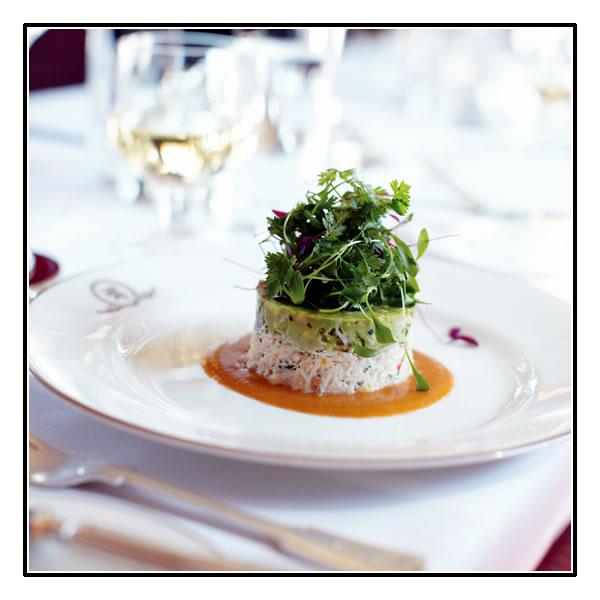 Superb fresh cuisine from local produce
The next morning over breakfast we feel we are getting to know our fellow passengers, sharing stories of railway journeys, cruises, world travel as we enjoy a gourmet feast of orange juice, porridge with a tot of whisky or fresh fruit, bacon and eggs, omelette or Arbroath smokie. Over coffee we chat to Barbara, a vivacious American lady who has booked the complete seven day Grand North Western itinerary. Travelling alone she loves this house party on wheels, in the company of new like- minded friends.
We are now in the Highlands, travelling through majestic mountain glens, beside mirror-flat lochs, rivers and pine forests, watching out for gushing waterfalls, grazing blackface sheep, fur coated cattle and red deer. The stunning, ever-changing scenery draws guests out to the open air observation platform, hunting for photographs. "What are you shooting?" Nancy from Kansas City asks as another guest gets up, camera in hand. "Anything that moves" came the reply. They return showing each other their digital photographs like trophies, stags heads and landscapes to be mounted. Their quarry was often elusive, disappearing from view behind trees or when plunging darkly into tunnels. Returning to their seats they would catch another tantalising vista and go back outside for the allure of the chase.
Over the beautiful, bleak miles of Rannoch Moor, the locomotive races to a rhythmic clickety click, clickety clack, reminiscent of Auden's poetic line, "Past cotton-grass and moorland boulder, shovelling white steam over her shoulder." One of the highlights of the trip was crossing the Glenfinnan Viaduct, best known today for its dramatic backdrop for Hogwarts Express in the Harry Potter movies. This magnificent Victorian bridge sweeps in an arc over 21 arches constructed 100 feet above the glen. Keen photographers were leaning out to snap the entire train as it curved around the track ahead.
Every day there are meticulously organised, private excursions, transported by the maroon Royal Scotsman-crested coach which meets the train to drive guests to historic castles, sporting estates, distilleries and islands. At Arisaig, the most westerly station in the UK, Mike tells us tales of Bonnie Prince Charlie and points out the Small Isles - Eigg, Muck, Rum, Canna - and distant Cuillin Hills on Skye. When we arrive for a stroll on Morar Beach our host apologises for the less than sunny weather, "but it should be hot tomorrow". Peter from Texas shrugs off the grey clouds - "Hey, it's hot where I come from, this is fine," as the white powder sand and lapping waves entice several guests to take a paddle in the loch.
The attention to detail by staff is extraordinary: Julian unpacks a wicker picnic basket on the beach, offering tea and coffee or whisky and towels for those taking a chilly dip. Arriving back at the train, Duncan stands on the platform with a silver salver of champagne flutes. Divine. After lunch (delicately seared Salmon with a maple and chilli dressing, glass of Pouilly Fuisse 2004) we take a windswept cruise on Loch Linhe with fabulous views of snow-capped Ben Nevis. Boarding the train at Fort William, we are handed a spicy Bloody Mary cocktail to warm the blood. This unique style of attentive hospitality is faultless. On day three we take the coach on the Calmac ferry to the Isle of Bute for an exclusive tour of Mount Stuart, the ancestral home of the 7th Marquess with its magnificent collection of antiques and portraits. The sun is blissfully warm as we explore the exotic gardens, pinetum and avenue of lime trees.
"But what will you do" one guest had been asked by a friend before leaving. The art of relaxation had been lost. The appeal of escape had eluded them. This particular gentleman sat and read a novel during some of the time the train was travelling, immune to an unfolding landscape so glorious it has inspired endless poetry and paintings. He was happy to know that there would be a chance to take an excursion from the train soon enough, after the promise of a good lunch. Other guests would stare out of the windows, a map spread on their lap and a smile playing round their lips.
At the end of the journey, the guest book says it all - "magical atmosphere" ... "absolutely memorable." ... "terrific experience."
On her return home, our new American friend Barbara sends an email:
"All I can say is the entire journey surpassed my every expectation. I have always wanted to see the bucolic scenery of Scotland - and that I did in spades. It was marvellous!."
Taking a journey on the Royal Scotsman is a dreamlike, epic adventure, 'cruising' around the Highlands, cosseted and indulged like royalty.
The word luxury is defined as "abundant provision of ease and pleasure" - this is decadently luxurious, carefree travel at its best. Yes, the tariff is relatively expensive but this world class, unforgettable experience is in a word, priceless.