The Northern Belle General Information
Timings
All timings shown on this site are for guidance only. Confirmed timings will be supplied with your travel documents. Please note that the Northern Belle operates within the constraints of the rail network and timings may not be confirmed until 7 days prior to the excursion. Tickets and itineraries cannot be sent until these timings are received. Please check in 30 minutes before departure time.
Wardrobe Notes
Smart casual wear (not jeans or trainers) is the order of the day, such as a jacket and tie for men. For our dinner excursions, more formal wear is customary. For outdoor events such as golf, practical wear is recommended.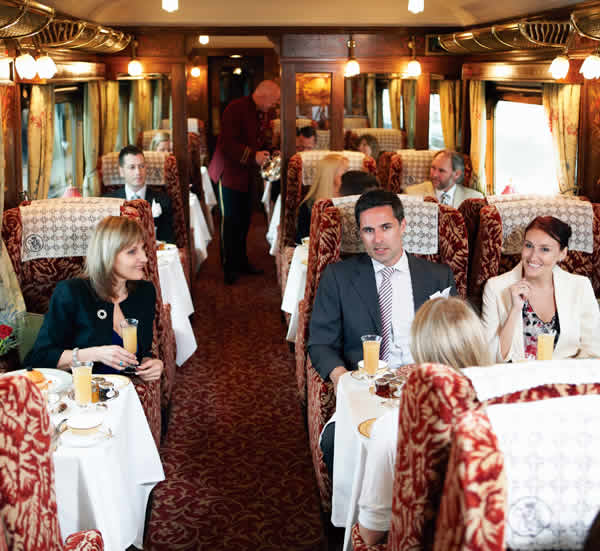 A Taste For Travel
Your fare includes table d'hôte meals on the journey. Menus are liable to seasonal change. If you have any special dietary requirements, make sure to advise when booking and we will do our best to comply.
Seating
The Northern Belle can carry up to 252 passengers. Each carriage seats 42 and contains tables of two and four, with plenty of room for guests to move around and enjoy the train's sociable atmosphere. Please note that parties of two will be seated sharing a table for four, unless a 'Table for Two' supplement is paid.
Smoking
With apologies to smokers, Northern Belle operates a non smoking policy aboard its train.
Mobile Phones
Out of consideration for your fellow passengers, please turn off mobile phones whilst in the Northern Belle carriages.
Insurance
Travel insurance is essential for ensuring peace of mind. You can find details of applicable insurance cover by clicking here.
Gift Vouchers
If you're seeking a very acceptable present for a special occasion, look no further. We offer gift vouchers for an actual excursion or a set amount.
Disabled Passengers
The Northern Belle is able to accommodate passengers with slight walking difficulties although we recommend that they are accompanied by an able-bodied passenger. We regret that the carriages cannot be boarded in wheelchairs.
Departures
All excursions, with one or two exceptions, are scheduled to depart from and arrive back at the stations described in the itineraries. However, on some dates, due to engineering works, the train may depart from or arrive back at a different station. At present, we are unaware of any changes, but we will advise you as soon as they are known.
Exclusive Charters
As long as there is a railway line, we can take you there. Charter the Northern Belle for your own purposes. Many companies choose it for the launch of luxury products, or to celebrate success, or even say "thank you". Whether it's destination, food, itinerary or entertainment, we are yours to command. Simply state your budget.
Transfers
Nearly all excursions involve a coach journey, either to transfer you to your final destination or as part of a guided tour. Coaches will be accompanied by a guide. Wherever practicable, we will use the nearest mainline railway station to the destination. An itinerary will be provided with your booking confirmation.
Reservations
Please contact 'Luxury Trains' reservations office on 0333 405 0192 to discuss your Northern Belle excursion.