The Belmond British Pullman - Celebrations 2023/24.
The opulence and style of the Belmond British Pullman carriages serve as the perfect backdrop to mark any unique occasion such as a romantic Valentines Day lunch or dinner or a special Mother's Day treat.
Indulge in a festive feast with all the trimmings to mark the Christmas season or raise a glass to the New Year in the sophisticated surrounds of your intricately appointed carriage.
Let us help make your celebration even more personal with flowers, champagne, and gifts awaiting the one you love when you board the train.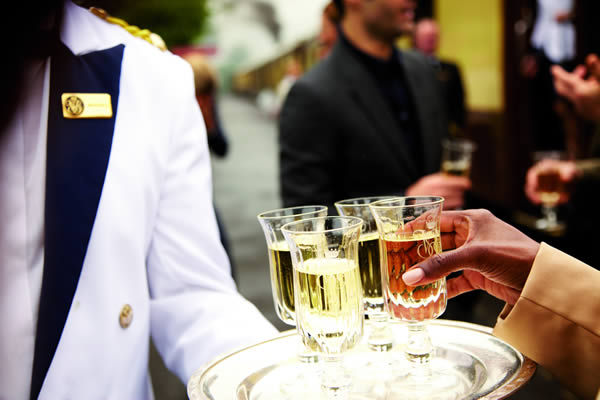 Surely, there can't be a better way to celebrate that special occasion or to treat a loved one than a trip on the glorious Belmond British Pullman, sister train to the iconic Venice Simplon-Orient-Express.
Christmas Lunch
Transport yourself to the dazzling era of the 1920s as you embark on the renowned vintage train at London Victoria station. A sumptuous dining affair awaits you in the exquisite wood-paneled carriage adorned with captivating art deco designs. Your table is elegantly set with crisp white linen, bespoke china, and glistening cut glassware. Unwind as impeccably attired stewards attend to your every desire. Take in the ever-shifting scenery through your panoramic window and delve into the train's rich history, envisioning the illustrious personalities who once graced its carriages. Whether a festive gesture for a cherished individual or a well-deserved indulgence for yourself, this extraordinary journey assures a day etched in memory.
(Smart day wear is appropriate. Please do not wear jeans or trainers).
You will be served a five course lunch en route accompanied by champagne and half a bottle of wine. Passengers do not disembark during this journey.
December 1, 2, 8, 9, 15, 16, 19, 20.
December 1, 6, 7, 8, 13, 14, 15, 18, 19, 20.
Festive Sunday Afternoon Tea
Recline in the luxurious comfort of your plush armchair and appreciate the opulent art deco embellishments adorning your carriage, meticulously arranged for the festive spirit of yuletide.
Take in the scenic views unfolding outside your window as you traverse from Greater London into Kent. Before long, your steward appears, ready to uncork a bottle of impeccably chilled Veuve Clicquot Champagne, inviting you and your fellow traveler to indulge. Savor the moment with an assortment of delectable treats: dainty finger sandwiches, savory delights, velvety scones, and our distinctive array of festive cakes. Amidst the delightful feast and the congenial ambiance, keep an ear out for the enchanting melodies of carol singers strolling through the carriages.
Your excursion concludes with a round trip, bringing you back to London Victoria Station—note that disembarkation from the train is not required during this enchanting journey.
(Smart day wear is appropriate. Please do not wear jeans or trainers).
Enjoy a festive afternoon tea as the British Pullman takes you on a trip lasting about four hours departing from and returning to London Victoria. A festive afternoon tea, including Champagne, sandwiches, cakes and scones, with tea and coffee is served as you travel.
November 26.
December 3, 10.
Le Manoir aux Quat' Saisons at Christmas
Embark on a culinary odyssey today aboard the legendary carriages of the British Pullman, leading you to Raymond Blanc's esteemed two Michelin-starred restaurant, Belmond Le Manoir aux Quat'Saisons, nestled in the picturesque Oxfordshire countryside. Step into the past on our iconic train, immersing yourself in a more sophisticated and refined era of travel. Unwind in your luxurious armchair, marveling at the intricate marquetry, sparkling crystal, and elegant silk lampshades, before indulging in a light brunch accompanied by a glass of champagne.
Upon reaching the station, awaiting coaches will transport you to Le Manoir aux Quat'Saisons. Here, savor a sublime three-course lunch paired with carefully selected wines. Post-feast, take a leisurely stroll through the renowned grounds, including vegetable and herb gardens that supply the restaurant's kitchens. Rejoin the coach for the return journey to the station, where you'll reboard the beautifully restored carriages of our train, relishing cheese, dessert, and coffee as we make our way back to London Victoria. This extraordinary day out is a gastronomic delight tailored for enthusiasts of exquisite cuisine.
(Smart day wear is appropriate. Please do not wear jeans or trainers).
After a three-course brunch on your outward journey aboard the British Pullman, enjoy the first three courses of your lunch exclusively in the surroundings of the two starred Michelin restaurant Le Manoir. A delectable two course dessert with coffee is served on board the gleaming carriages on your return journey to London.
Dining at Le Manoir is at larger sized tables with fellow guests.
Mother's Day Champagne Afternoon Tea
Celebrate Mother's Day in style by treating every mom to a sparkling journey, a heartfelt expression of love and appreciation. The enchanting adventure commences at London Victoria Station, where you board the timeless carriages of the iconic British Pullman, immersing yourself in the opulence of art deco design. A smartly uniformed steward guides you to your table, where you can unwind in plush upholstered armchairs and marvel at the vintage details surrounding you. Each carriage unfolds a unique narrative, with the recently reimagined Cygnus showcasing the cinematic touch of film director Wes Anderson.
As the train embarks on its scenic voyage through Greater London and into the Weald of Kent, your steward marks the occasion by uncorking a bottle of Veuve Clicquot. This exquisite champagne, a fitting tribute to Mother's Day, carries a storied history—Madame Clicquot, its founder, was the youngest woman to lead a champagne house in the 18th century. A favorite at global social events and a Royal Warrant Holder, Veuve Clicquot is the champagne of choice for the British Royal Family.
Savor a leisurely traditional afternoon tea, relishing the ever-changing landscape through your window. The spread includes savory delights and sumptuous pastries, elegantly served on bespoke china. Alongside half a bottle of champagne per person, quench your thirst with our aromatic tea. After completing the round trip, return to London Victoria, disembarking with sweet memories.
From one timeless treasure to another, Happy Mother's Day.
(Smart day wear is appropriate. Please do not wear jeans or trainers).
Veuve Clicquot Champagne is served, followed by afternoon tea, including sandwiches, cakes and scones, with tea and coffee, all within the delightful atmosphere of the British Pullman on a leisurely trip through the English countryside.
New Year's Eve Dinner
Leave the contemporary world behind and transport yourself to the glamorous 1920s by boarding the exquisite vintage carriages. Settle into the elegance of your table adorned with crisp white linen, bespoke china, and glistening cut glassware. Surround yourself with the intricate marquetry and art deco features, creating a truly captivating ambiance. Impeccably attired stewards stand ready to cater to your every need as you partake in a lavish five-course dinner, accompanied by champagne and fine wine. Extend a toast to the good health of your friends and fellow passengers. Take a moment to reflect on the highlights of the past 12 months, contemplating the exciting possibilities the New Year may unfold. Please note, this is a black-tie event.
(On such a special occasion you can never be overdressed aboard the British Pullman. This is a black tie event).
Your journey takes you on a circular tour, departing from and returning to London Victoria. Mark the passing of the year in style aboard the luxurious carriages of the British Pullman and remember to raise a glass to all that is new and exciting.
You will be served a five course dinner en route accompanied by champagne and half a bottle of wine. Passengers do not disembark during this journey.
Please note: All timings shown are for guidance only. Confirmed timings will be supplied with your travel documents which will be sent to you 5 - 7 days before departure.
Tables for two are always in demand and very often a premium is charged for these tables.