The Belmond British Pullman - Steam Hauled Excursions 2024.
For those seeking the ultimate in historic romance why not combine the luxury of the British Pullman with the magnificence of a mighty steam locomotive. Whatever your choice of destination you are bound to arrive in style.
Enter an almost forgotten world of romantic encounters tantalisingly glimpsed through wreathes of steam.
For pure, unadulterated glamour there is no greater experience and no finer way to enhance your journey with the Belmond British Pullman, sister train of the Venice Simplon-Orient-Express.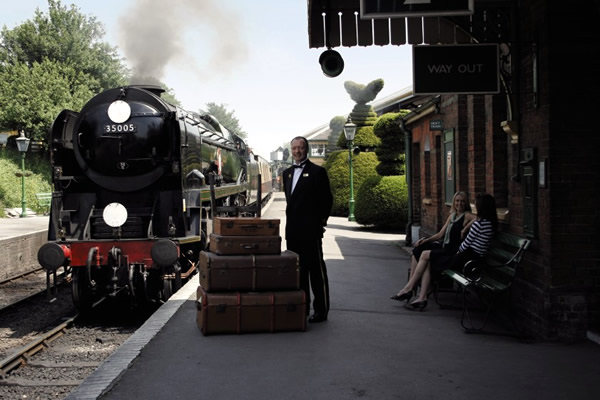 The Golden Age of Travel
Take photographs of the immaculate, gleaming steam locomotive while it is stationary at London Victoria Station. Then it is time to board the famous Belmond British Pullman train for a fine-dining experience like no other.
From the moment liveried stewards welcome you to your immaculately appointed carriage, the adventure begins. Stepping aboard the British Pullman is like stepping back in time. For every detail, from regal carpets, woven brass luggage racks and mahogany glass-panelled doors to silken lampshades and velour tapestry armchairs, transports you back to back to a more gracious age.
(Smart day wear is appropriate. This is one time in your life when you are free to look fabulous, dressing down is just not our style. Please do not wear jeans or trainers.)
Stepping aboard the British Pullman is like stepping back in time. In the care of your steward as time passes unnoticed, enjoy a delicious five course lunch, unruffled and unhurried.
Few journeys will take you out of modern time quite so thoroughly and into another era. A glass of Champagne will round off your meal before the train arrives at London Victoria. Your journey aboard the British Pullman takes you on a circular tour. Guests do not disembark from the train during this journey.
May 11, 30.
June 13, 27.
July 18.
August 8.
September 12, 26.
October 10, 24, 31.
November 7, 14.
Please note: All timings shown are for guidance only. Confirmed timings will be supplied with your travel documents which will be sent to you 5 - 7 days before departure.
Tables for two are always in demand and very often a premium is charged for these tables.